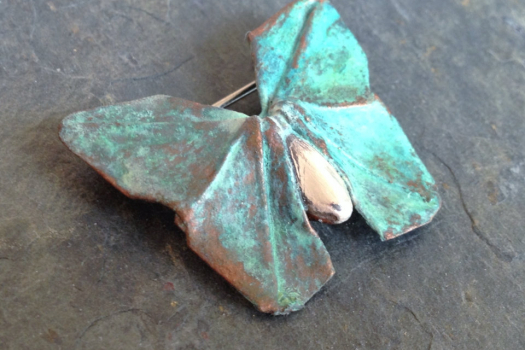 "Vivace" - Butterfly Brooch for May
This is the brooch for May, named "Vivace", which ties in the deep greens of early summer. It started with a single square sheet of fine silver, which was folded into a compact origami butterfly using approximately 25 folds through the metal. This was then plated in copper, and given an antique treatment to bring out the deep rich greens of copper oxides. The butterfly's body was left unplated so the silver shines through. Finally it was given a clear protective coating to lock in the coloration.
The pin back is solidly fuzed near the tops of the wing tips, so the brooch hangs properly without leaning forward.
This brooch is approximately 1.25 inches across, and just over 1 inch high. It is formed from just over 5 grams of .999 fine silver, kiln fired, and highly polished, then given the unique antiquing to bring out these rich colors.
Like every butterfly in the Concerto series, this comes with exclusive packaging, and a certificate of authenticity signed by the artist. It is a unique design that will never be made again.