Strange Folk Festival 2013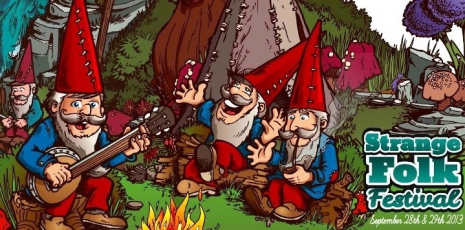 Another fine year at this great show!
Its the largest indie craft festival in the midwest. Art, music, beer, food, and tons of handmade crafts of all kinds. Runs the last weekend in September, in O'Fallon, Illinois, just 20 minutes East of St Louis.
150 of the most amazing handcrafted vendors in the Midwest. 10 local bands. Food, beer, and cupcakes. Special crafts for kids. And llamas!
http://www.bnd.com/2013/09/25/2817655/strange-folk-festival-in-ofallon.html
What's so strange about O'Fallon's Strange Folk Festival?
Well, it's anything but your average arts and crafts festival. The eighth annual version, from 10 a.m. to 6 p.m. Saturday and Sunday in O'Fallon's Community Park, is the Midwest's largest outdoor indie arts and crafts show with more than 150 vendors. Visitors can see and purchase handmade dolls; vintage-inspired graphic print clothes for women; silver origami jewelry; bent spoon art; paintings; whimsical purses and much more.Strange Folk has gained a reputation for its spunky counter-culture theme, and eclectic variety of vendors selling their handmade wares affordable prices. To see a preview of the vendors' work, go to strangefolkfestival.com.
Read more here: http://www.bnd.com/2013/09/25/2817655/strange-folk-festival-in-ofallon.html#storylink=cpy