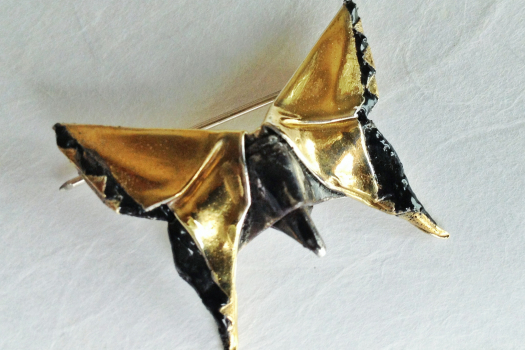 "Courante" - Butterfly Brooch for March
For the Concerto series for March, I took a completely new direction, starting with a very complex pattern that uses over 40 folds on a single square sheet of fine silver. The wings have been colored with a combination of 24k gold plating and black enamel, the body is dark oxidized silver. The result is stunning and unique. If you look closely at the wing edges, the triangular pattern of black and gold is part of ths folding pattern in the silver, then accented with color.
The pin back is solidly fuzed near the tops of the wing tips, so the brooch hangs properly without leaning forward.

This butterfly brooch is nearly 1.75 inches across, and just over one inch high. It is formed from approximately 5 grams of .999 fine silver, kiln fired, and highly polished; then coated with a thin layer of wax for protection.
Like every butterfly in the Concerto series, this comes with exclusive packaging, and a certificate of authenticity signed by the artist. It is a unique design that will never be made again.