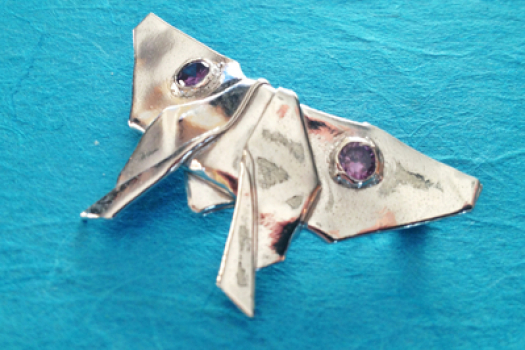 "Dolce" - Butterfly Brooch for February
This year, I challenged myself to create twelve exclusive origami butterfly brooches, one for each month, which I have named the Concerto series. Yes, I seem to have an affinity for using musical names. Each will explore new directions in melding metal and origami, and each will only be made once.

This is the February brooch, named "Dolce". The form is modern and simple, using 16 folds to transform a square sheet of silver into a butterfly. 4mm amethyst colored cubic zirconia crystals are then embedded in the main wings, using a unique bezel technique that leaves the back of the gem open so light can pass through. The pin back is solidly fuzed near the tops of the wing tips, so the brooch hangs properly without leaning forward.

This butterfly brooch is nearly 1.75 inches across, and just over one inch high. It is formed from approximately 5 grams of .999 fine silver, kiln fired, and highly polished; then coated with a thin layer of wax for protection.
Like every butterfly in the Concerto series, this comes with exclusive packaging, and a certificate of authenticity signed by the artist. It is a unique design that will never be made again.