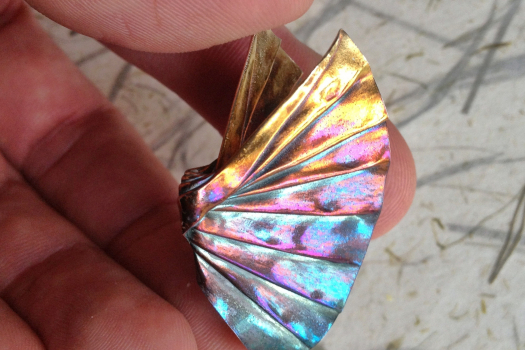 "Minuette" - Butterfly Brooch for June
June brings the start of summer, with hot weather and storms and rainbows. This brooch titled "Minuette" captures the heat and color of the start of the season. I experimented with new folds and classic coloration techniques. A single square sheet of fine silver is put through a series of overlapping accordion folds, then bent back on itself to make two distinct wings, front and back. The front wing sticks outward up to a quarter inch on the right edge, giving a great 3D effect.
The iridescent effect is made by treating the silver with sulfur and heat, which brings out a rainbow of color from yellow to maroon to blue and purple. It is then given a light coat of wax to seal in the color.
The pin back is solidly fuzed to the back, vertically down the back wing.
This brooch is just over 2 inches high, and 1.5 inches wide. It is formed from approximately 5 grams of .999 fine silver, kiln fired, and highly polished; then treated for color and given a coating of wax for protection.
Like every butterfly in the Concerto series, this comes with exclusive packaging, and a certificate of authenticity signed by the artist. It is a unique design that will never be made again.