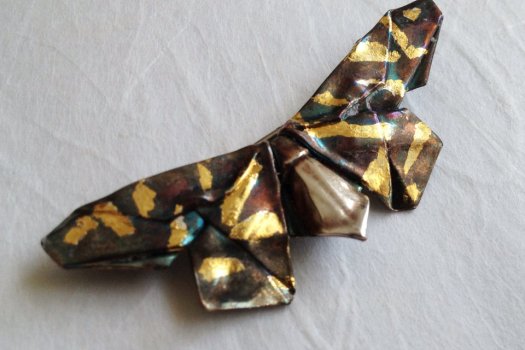 "Gavotte" - Butterfly Brooch for July
For July, I tried a new technique that has interested me for years. This is keum-boo, where gold foil is bonded to fine silver at high temperatures. The butterfly itself is folded from a single sheet of silver, with wide and narrow wings. Tiny strips of gold foil are embedded directly into the wings, and the silver has been put through a sulfur oxidation process to turn it a dark blue/grey color, while the gold is left unchanged. The body of the butterfly is polished to set it off.
This butterfly brooch is about 2 inches across, and just over one inch high. It is formed from approximately 5 grams of .999 fine silver, kiln fired, and highly polished; then coated with a thin layer of wax for protection.
Like every butterfly in the Concerto series, this comes with exclusive packaging, and a certificate of authenticity signed by the artist. It is a unique design that will never be made again.